Welcome to our Website for Brothers of Phi Beta Sigma Fraternity in the State of Alabama.


Please change your bookmarks ASAP. This website will be removed at some time in the future.
---
Countdown to the Southern Regional Conference
Flash Countdown
---
Sigmas gather for the 2012 State Conference in Anniston/Oxford !
Brothers of Phi Beta Sigma from all over Alabama, as well as some neighboring states, came to Oxford, Alabama, March 9-11, 2012 for the annual Sigma State Conference of Alabama, hosted this year by the Zeta Mu Sigma Chapter, Pi Kappa Chapter (JSU) and Epsilon Tau Chapter (Talladega College). A special treat at this Conference was the opportunity to spend time through the whole weekend with our Honorable Brother Carter Womack, 27th/29th International Fraternity President, who was the keynote speaker at the Awards Luncheon. Participating Chapters, in addition to the host chapters, included Beta Epsilon Sigma (Huntsville) , Alpha Eta Sigma (Montgomery), Tau Sigma (Birmingham), Beta Pi Sigma (Tuscaloosa), Beta Sigma Sigma (Mobile), Gamma Sigma (Tuskegee), Alpha Chi Sigma (Dothan), Kappa Lambda Sigma (Marion), Zeta Upsilon Sigma (Jackson), Epsilon Theta Sigma (Selma), Alpha Alpha Lambda (Troy), Alpha Sigma Alpha (UAH), Beta Beta Alpha (UNA), Beta Kappa (Tuskegee U), Gamma Beta (ASU), Gamma Epsilon (Ala A&M), and Kappa Zeta (Auburn). The active Chapters absent from the State Conference were Eta Mu Sigma, Alpha Psi Alpha, Sigma, Epsilon Rho, Gamma Chi, Theta Delta, and Eta Epsilon. Absent chapters are urged to get in touch with their advising alumni chapter or state officers for important information coming from this year's State Conference ! !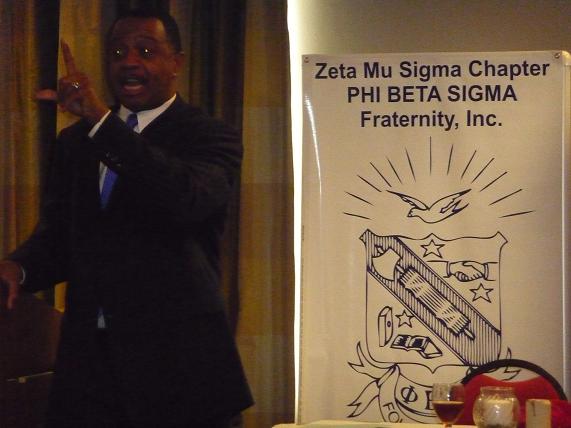 ---
Sigmas respond to the Tornado Disaster !
Phi Beta Sigma immediately involved itself to serve our fellow humanity following the devastation brought about by tornados on Wednesday, April 27, 2011. The Sigmas of Birmingham gathered at the Sigma House to coordinate their plan of action and reported to support sites to help provide for the victims. Our Frats came from Huntsville and from Anniston to join in the relief efforts. Sigmas at the University of Alabama, despite the closing of their university, remained in town to do whatever they could to help their community endure through the crises of the aftermath of destruction. As far as it is known, no Brothers of the Fraternity were injured or lost in Alabama; thanks be to God. Offers of assistance and support have been received from Brothers of Phi Beta Sigma from out-of-state, for which we are most grateful. Chapters are asked to share news of needs and of volunteer efforts during the difficult ordeal that our state is facing. Brothers are also called upon to associate their Facebook account with the State of Alabama Phi Beta Sigma page for the sake of faster communication and consultation.
---
BROTHER DEMETRIUS NEWTON HONORED BY FAIRFIELD HIGH SCHOOL ALUMNI !
Friday, June 3, 2011 will be a Banquet for fundraising for the Fairfield Industrial High School Alumni Association, at which Brother Demetrius Newton will be honored. This event will be held at the Birmingham Sheraton Hotel. Purchase of Ticket required. Contact Mrs. Doris J. Blue at 205-925-0353.

---
Please register yourselves at the following sites if you are a Sigma in Alabama!

NEW EFFORTS FOR CONNECTING, NETWORKING, AND INFORMING THE BROTHERHOOD IN ALABAMA !

Please register yourselves at the following sites if you are a Sigma in Alabama!


Click to join Alabama Sigma at Yahoo Groups
Register at FACEBOOK and do Search for State of Alabama Phi Beta Sigma

PHOTOS OF SIGMAS AT THE SELMA MARCH
To view the Schedule of Events, please visit http://selmajubilee.com
---
NEW RULING ANNOUNCED REGARDING DEADLINE FOR FALL INTAKE
Chapters that have new Membership Intake during the Fall must take caution in when Paperwork and Fees are sent to Headquarters. If these materials are sent after November 1st, then Active-Financial Status may be granted for the upcoming year. If these materials are sent before November 1st, then Active-Financial Status expires 2 months later in December and it becomes necessary to submit National/Regional Dues (again) before the December 31 deadline! Take heed! CHAPTERS, PLEASE REMEMBER TO NOTIFY THE STATE DIRECTOR AND STATE NMIP COORDINATOR WHEN PLANNING INTAKE !
---
CONSTITUTION NOW AVAILABLE AT THIS WEBSITE!
An earlier version of the Constitution and Bylaws for the Alabama Membership of Phi Beta Sigma Fraternity is now available at this website's 'backpages'. It is imperative for Brothers to study and learn this document. Thought also needs to be given to how it should be modified so that it provides efficiency and consistency to current operational practices. Please email SIGMABLU@aol.com if there are any difficulties with the password, but please identify your name, chapter, and chapter president. Please note that only smaller-case letters and one single name should be used per box.
Enter through the password gate below.
Also a Section for Zeta Phi Beta Sorority in Alabama and LOTS OF PHOTOS (over 200) have been added! Check the Menu on the left side.
---
SCENES FROM 2009 ALBANY BELOW (THANKS TO BROTHER CHRIS FRANKS FOR THE PHOTOS!)
---
---
There may be problems with the Password Gate showing up at this Website, especially if your computer does not have updated Java Scripts. If difficulties continue, please email the Website Manager, for alternative methods for accessing the Confidential Section of this Website. If you are using the Firefox Browser, it has been noticed that the Greek Letters are not being shown in the Greek Alphabet. Internet Explorer does show the correct Greek Letters for the Chapters and the Fraternity.
---
Please send comments, questions, suggestions, corrections regarding this website to the Website Manager. Help! Send your Up-dates for Chapter Contact Information, Chapter Officers, Chapter Events for Fall 2010, by clicking on Item #13 in the Menu on the left! Thanks.
Updated on: May 1, 2011. There have been on-going computer problems that have prevented logging on and editing this website, and apologies are extended to all who utilize this Website. !
!