OUR STATE OFFICERS: 2012-2014
pictured below, from Right to Left: Brother Reggious Bell, State Director; and Brother Rickey McClure, First-Vice; and Brother ShaRosky Williams, Second-Vice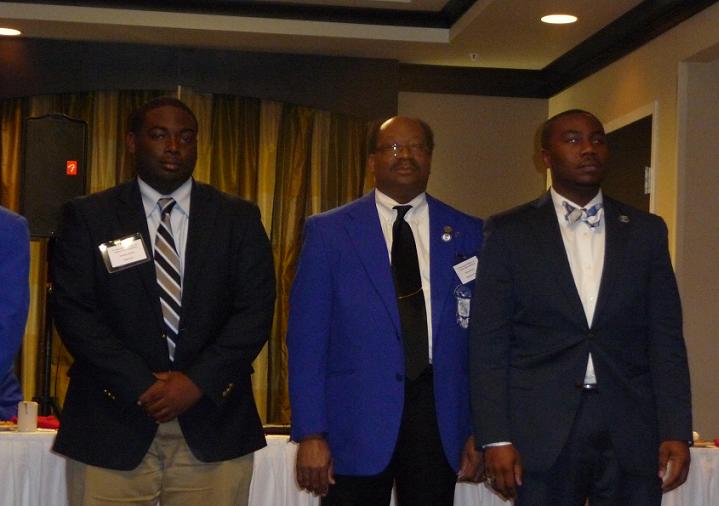 STATE DIRECTOR
Brother Reggious Bell
Beta Epsilon Sigma Chapter
(256)-520-2595
P.O. Box 11395, Huntsville, AL 35814
Email: BellR@uah.edu

FIRST VICE STATE DIRECTOR
Brother Rickey L. McClure
also Regional Chief of Staff
Beta Epsilon Sigma Chapter
1116 Fifth Avenue West, Birmingham, AL 35204
Phone: (205) 786-9186
Email: MCC110681@aol.com

SECOND VICE STATE DIRECTOR
Brother ShaRosky K. Williams
Kappa Zeta Chapter at Auburn Univ
P.O. Box 813
Auburn, AL 36832
Cell: (334)-524-5211
Email: SKW0005@auburn.edu

STATE SECRETARY Brother Arthur D. Caffey
Gamma Sigma Chapter
Phone: (334) 552-4742
Email: ArthurCaffey1@charter.net

STATE TREASURER
Brother Marcus Searles
Beta Epsilon Sigma Chapter
P.O.Box 22476
Huntsville, AL 35814
Phone: (256) 603-8679
Email: Marcus.J.Searles@usace.army.mil

DIRECTOR OF SOCIAL ACTION
TBA

DIRECTOR OF BIGGER AND BETTER BUSINESS
Brother Jamal D. Snell
Gamma Sigma Chapter


DIRECTOR OF EDUCATION
Brother Rafael Ferrell
Zeta Mu Sigma Chapter


DIRECTOR OF COLLEGIATE AFFAIRS
Brother James Winfrey
Alpha Chi Sigma Chapter
Email: JWinfrey3@gmail.com

DIRECTOR OF PUBLICITY and WEBSITE
Brother Trevor Jones
Zeta Mu Sigma Chapter
Phone: (256) 604-9070
Email: Jones.Trevor@yahoo.com

DIRECTOR OF SIGMA BETA CLUBS
TBA

PARLIAMENTARIAN
TBA

NMIP COORDINATOR FOR NORTH ALABAMA
Brother Dr. Jimmy Cleveland
Kappa Lambda Sigma Chapter
Route 4, Box 20, Sprott, AL 36756
Phone: (334) 683-9857
Email: williemae23@bellsouth.net

NMIP COORDINATOR FOR SOUTH ALABAMA
Brother Joseph T. Alexander, Jr.
also, Regional Parliamentarian
Gamma Sigma Chapter
Tuskegee, AL
Phone: 334-727-1461
Cell: (334)-552-1596
Email: jtfive97@hotmail.com

CHIEF OF STAFF
Brother Kenney L. Holder
Beta Sigma Sigma Chapter
P.O. Box 40575, Mobile, AL
Phone: 251-342-1047 = home
Phone: 251-656-4114 = cell
Email: KenneyHolder@comcast.net
OR: KHolder@comcast.net

IMMEDIATE PAST STATE DIRECTOR
Brother Tom A. Randolph
Beta Epsilon Sigma Chapter
3317 Buttrey Drive
Huntsville, AL 35810
Day Phone: (256) 544-8088
Cell Phone: (256) 603-6552
Email: Tom.A.Randolph@nasa.gov

REGIONAL DIRECTOR OF BIGGER & BETTER BUSINESS
Brother William Fails
Beta Epsilon Sigma Chapter
Huntsville, AL
Phone: (256) 679-6554
Email: WDFails@bellsouth.net

WE APPRECIATE THE WORK OF OUR PAST STATE OFFICERS: Bro Randolph, Bro T-Smith, Bro Almond, Bro Miller, Bro Franks, Bro Reynolds, Bro Pugh, Bro Herron, Bro Davis, and Bro Stancer.. THANK YOU !

Note: to return to the Main Page, click on "Return to Main Page" at the top of the Menu on the left.
---